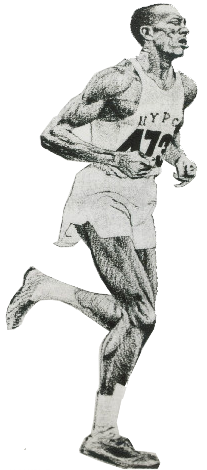 1919
Born January 31st Dunbarton, South Carolina to Alma Bing & John Henry Corbitt
1938
Graduated Woodward High School – Cincinnati
1942
Graduated University of Cincinnati
1944
U.S. Army – World War 11
1946
Married Ruth Eva Butler
1947
Joined the New York Pioneer Club
1949
Began a 44 year career at the Institute for Crippled & Disabled.
1950
Earned a Master's Degree – New York University – Physical Therapy
1951
Ran his first marathon at Boston.
Son Gary born
1952
Represented the US Olympic Team in the Marathon at Helsinki, Finland.
1953
Our World article "Brighter Horizons" July
1954
U.S. National Marathon Champion
1955
Sports Illustrated article, April 18
Radio interview with Chris Schenkel
Ebony Magazine article, July
Our World article "Life in Your Hands" July
Alternate to 1955 Pan American Games Team
Canadian National Marathon Champion
1956
Alternate to 1956 Olympic Team
Set an American Record for the Marathon on the track – 2:42:25
U.S. National Champion at 30 Kilometers
Studied Connective Tissue Massage from the originator of this technique Elizabeth Dicke in West Germany.
1957
U.S. National Champion at 30 Kilometers
1958
First President New York Road Runners Club
Started a quarterly New York Road Runners Newsletter. Editor for 20 years.
Personal best marathon time set in Philadelphia – 2:26:44
Finished an unofficial 6th place at the Boston Marathon after failing the pre-race physical.
Al Confalone and John Lafferty also failed the pre-race physical.
Began teaching at Columbia University.
1959
Won the first ultramarathon conducted by the New York Road Runners club. The distance was 30 miles in 3:04:13.
1960
Became the third national president Road Runners Club of America.
Co-authored a book on Hydrotherapy.
Started the National Road Runners Club Newsletter now called "Club Running"
Studied PNF stretching (Proprioceptive Neuromuscular Facilitation with Margaret Knott and Boston University.
1962
Made the first of six trips overseas to run London to Brighton 52.5 Mile Road Race.
Set a U.S. Road and Newcomer Record with a 4th place finish.
1963
National RRC Ultramarathon 44 Mile Championship
1964
Wrote a book on Measurement of Road Running Courses.
2nd place finish at London-to-Brighton 52.5 Mile race – set U.S. road record
1965
First Chairman of the National Standards Committee which certified accurate distances of road race courses.
2nd place finish at London-to-Brighton 52.5 Mile race
1966
Ran 312.5 training miles for a 7 days - during a work week.
Set U.S. Record for 50 Miles on the track.
5th place finish at London-to-Brighton 52.5 Mile race
Became the second runner in history to finish 100 marathons.
1968
13 year streak of running two workouts per day ended.
U.S. National 50 Mile Champion
1969
Completed 132nd marathon to surpass Mike O'Hara and begin holding the record for 12 years of having run more marathons than anyone in the history of the sport.
Ran 1,002 training miles in July.
Set U.S. Record for 100 Miles on the track.
2nd place finish at London-to-Brighton 52.5 Mile race – set U.S. and masters road record
1970
At age 51, set an American age group record for 50 miles on the road of 5:34:01. The record still stands today 43 years later.
1971
Inducted to Road Runners Club of America Hall of Fame
1972
Tied the record of Clarence DeMar for most consecutive Boston Marathons run under 3 hours, at 19 times, from 1954 to 1972.
Studied PNF stretching (Proprioceptive Neuromuscular Facilitation with Dorothy Voss at Northwestern University.
1973
Ran 207.2 training miles during a five day work week averaging 41.4 miles per day.
Ran 50 mile training runs (3 workouts), on a workday. This was done in August and October.
Set U.S. Record for 24 Hours on the track.
1974
Subject of a biography called Corbitt.
1975
Suggested the concept of a Five Borough race to celebrate the Bicentennial. This became the Five Borough New York City Marathon.
1981
Inducted to University of Cincinnati Athletic Hall of Fame
1993
Retired from The Institute for Crippled & Disabled. He continued to treat patients until September 2007.
1998
Inducted in the inaugural class Distance Running Hall of Fame.
2001
Set a World Age Record 303 Miles in a 6 Day Race at age 82.
2003
Walked 68.7 Miles in 24 Hours. The race celebrated the 30th Anniversary of his American Record. This was Ted Corbitt's 223rd and last marathon/ultramarathon.
2004
Journeyed to Athens, Greece to see the birthplace of the Olympic Games.
2005
Returned to Helsinki, Finland to attend the World Track & Field Championships.
2007
Lifetime Achievement Award Runner's World Heroes of Running
Life is the ultimate marathon; stay on the course and stay strong.
December 12, 2007
Ted Corbitt's Last Speech
I ran and won my first race, 60 yards, in 1933. I wanted to be a sprinter but too frequent hamstring muscle injuries ruled that out.
In time, I became addicted to running long, long distance runs, and inspired others to do it better.
In addition to training extensive mileage, I spent years doing administrative stuff in the background, to help our sport survive and grow. At times I referred to myself as a reluctant dragon. I pulled this overloaded life off because I lucked out in my choice of a wife.
I had successes, but mistakes, and failing to master the art of tapering off between killing training and races, and lady luck, all affected race results.
In 2002, at age 83, I walked 303 Miles in a 6 day running race. I would have loved to have run in a couple of 6 day races in an effort to join the few men who have run 600 miles in 6 days.
Ted Corbitt
November 3, 2007
Acceptance Speech Runner's World Heroes of Running Awards Ceremony